Now, there's a lot of Christmas-themed films out there, and I certainly haven't seen them all (I've been told I need to see "Christmas Shoes"). Then there's some I have seen but will be noticeably absent from this list. Then there are some I have seen but have probably forgotten about, so remember to join the convo (that's Etsy talk for conversations) and comment on your own favorites! (By the way, these are in no particular order.)
"Miracle on 34th Street"
This may come as a surprise, but I actually like the newer ('94) version better. It may be because I've seen it a few times more than the '47 version. But I like how in the changed ending (spoiler alert) they use the example of our currency saying "In God We Trust" on it even though we can't see God, instead of the post office defense. I also like Richard Attenburough as Kris Kringle, and Mara Wilson is the cutest little Susan!
"The Best Christmas Pageant Ever"
Such a funny movie! And if you read the book, you'll find it's one of those rare occasions where the film actually follows the book nearly word for word! So in this case, why read the book when you can see Leroy, Ollie, Gladys, Claude, Imogene and Ralph wreak havoc in the Sunday School room in live action on the screen? =) Definitely a family favorite!
"Ernest Saves Christmas"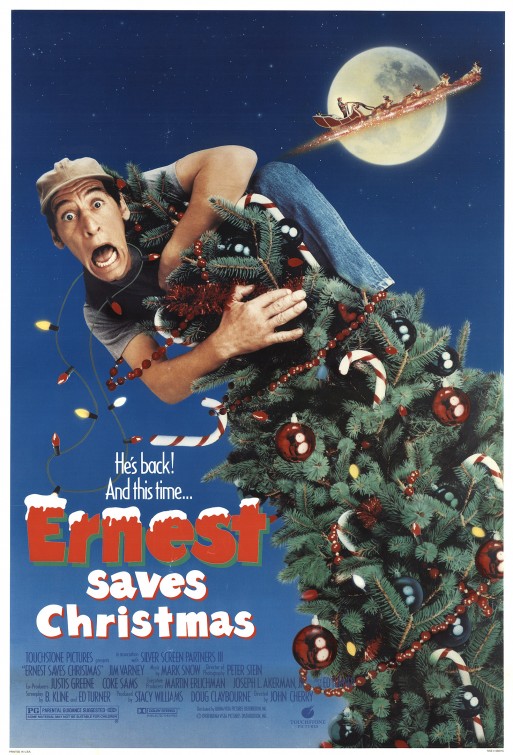 Speaking of family favorites, I can't believe this actually made the list, but if you're in my family, you know why. =) I'm pretty sure the only reason we ever watched it was because my aunt and cousin were extras in it in a scene early on in the film. Yep, you read that right. Still, that probably doesn't warrant it being on a favorite Christmas movies list, but traditions are traditions, and even stupid, ridiculous memories can be good ones. And you don't have to watch it just because we do. =)
"The Bells of St. Mary's"
I don't think this is actually a Christmas movie, but we usually watch it at Christmastime for whatever reason. It's a sweet story with a few cute and funny moments in it. I think we watch it to say we got our fill of Bing Crosby without watching those other "classics" that aren't so classic.
"Little Women"
As long as we've veered away from solely Christmas-only-themed films... I think this is a great movie with several Christmas scenes in it! Of course, I'll take any excuse to watch one of my favorite movies. It's oh so much better than any other adaptation of Alcott's novel, and does a decent job of sticking to the real story. And Christian Bale is Laurie, so of course I'm going to watch it! (Just kidding! I'm not one of those.) One of my favorite winter scenes is when they're delivering their Christmas dinner to the Hummels and spontaneously start belting out "Here We Come a-Wassailing"! I can relate to the impulse.
"It's a Wonderful Life"
You were probably wondering if this was going to show up. Well, wonder no longer! This has to be my all time favorite Christmas movie, and it probably ranks pretty high as my all time favorite of any genre! It's such a great story: realistic yet classic; funny yet touching. Jimmy Stewart does a fabulous job being George Bailey, and you gotta love Henry Travers as Clarence, Angel 2nd Class. This movie never gets old and never fails to delight no matter how many times I watch it. It's a ringer! (pun intended)